Celebrating how much you love you partner, children or others doesn't have to mean defaulting to the old standbys of breakfast in bed or cake. I've always been partial to meals that make me feel warm and cozy inside; meals served at home and made with love.
While others I know celebrate anniversaries and how much they love each other out at restaurants where prices are raised for occasions like Valentine's Day, I've always preferred to cook at home. Cooking a meal at home, preferably with someone I love, adds a taste of happiness to the occasion.
Of course, I don't want to be standing in the kitchen for hours just to prepare a meal that can be enjoyed with my loved ones. Shan Foods has so many recipe mixes and pastes (like ginger garlic paste) that make it easy to put together an authentic tasting meal in a fraction of the time. The recipes printed on the backs of the packages also make it easy to get all the ingredients necessary and create a delicious meal with little effort.
I'm working with Shan Foods to share authentic, easy recipe mixes, pickles, and ginger garlic pastes with you. This post is brought to you by Shan. ???? I have been using their products for years and wanted to share my experience vegan–izing their recipe mixes with you. 
Here, I'm sharing how easy it is to make Pav Bhaji, which is a mashed stir-fried vegetable dish.
Whether you enjoy Pav Bhaji with naan, Basmati rice, or on its own, the delicious vegetables and spices are sure to make you and your loved ones feel warm and cozy.
I like to enjoy Pav Bhaji with a bit of crunchy chevda on top. How do you like to eat it?
Vegan Pav Bhaji
Prep Time

 

Cooking Time

 

Inactive

 

Total Time

 
Pav Bhaji is an authentic tasting mashed stir-fried vegetable dish. It's easy and quick to put together.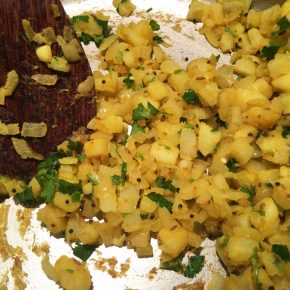 Ingredients
4 medium potatoes/300g, peeled and cubed
2 medium tomatoes/100g/1/2 cup, chopped
1 large onion/100g/3/4 cup, finely chopped
1/2 cup/50g bell pepper (capsicum) chopped
6-8 cloves of garlic
1 teaspoon mustard seeds
1 teaspoon cumin seeds
200g margarine or oil
3 leveled tablespoons Shan Pav Bhaji Mix
1/2 bunch of cilantro
Instructions
Boil potatoes and garlic cloves in water until tender. Drain and set aside.
Add a teaspoon of oil to a medium sized pot. Turn to medium heat and add seeds. When they make a "popping" sound, add the potatoes and garlic cloves, along with cilantro that has been loosely torn. Mix together for a few minutes then set aside.
On low heat, add the rest of the oil and chopped onions. Fry until transparent. Add tomatoes and bell pepper. Fry until the tomatoes are tender and done.

Add potato mixture to the pot and coarsely mash.
Add Shan Pav Bhaji Recipe Mix and fry for a few minutes until the oil begins to separate from the vegetables.

courses: Lunch or Dinner

cuisine: Indian

REMINDER: bring your Valentine's Day recipe to life with Shan's Buy 3, Get 1 FREE promo pack. Available at your local Desi store.
Related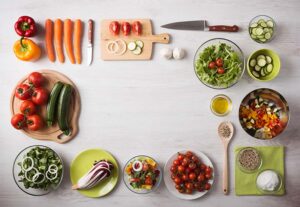 Five Basic Things For Easy Cooking
Prepare ingredients before starting to cook Known as French as mise en place, it basically means to prepare all the ...
Continue Reading >>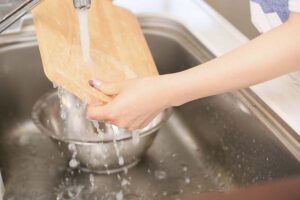 Quick And Easy Cleaning Hacks For Kitchen
Stay safe from bacteria in the kitchen Cleaning is not just washing ingredients. It is also ensuring proper hygiene s...
Continue Reading >>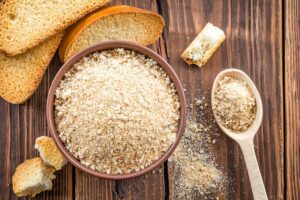 Substitution For Everyday Cooking Ingredients
It is so frustrating to realize in the middle of making a delicious recipe that there's an ingredient missing! Frantic...
Continue Reading >>
Share